As with any food, it is best to buy it as fresh as possible before use. If you have to keep the corn before using, keep it in a tightly sealed plastic bag in the refrigerator. Do not remove the husk until you are ready to cook. After cooking, corn may stay in the refrigerator for up to two days.

You can also freeze fresh corn for longer-term storage. Simply blanch the whole ears from seven to 11 minutes (less for smaller corn, more for larger ears). Whole ears can be frozen for up to one year. Alternately, you can blanch the ears for five minutes and then remove the kernels and freeze them. These kernels will keep for two or three months.

Other forms of corn, such as cornmeal, grits (such as polenta), and corn flour should be kept refrigerated in airtight containers. This way, they will stay fresh for up to three months. Frozen products have a six-month freezer life.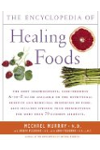 More About this Book
Encyclopedia of Healing Foods
From the bestselling authors of The Encyclopedia of Natural Medicine, the most comprehensive and practical guide available to the nutritional benefits and medicinal properties of virtually everything...
Continue Learning about Food Storage & Health