One of the main reasons the waxes are added is to keep the produce from spoiling during the long period from harvest to the grocery store shelves. If grocery store chains bought more local produce, the produce would not require chemicals to keep it looking fresh. Instead, the large chains sign contracts with large produce suppliers, regardless of their location. This is why, for example, a grocery store in New York is stocked with apples from Washington State and broccoli from California.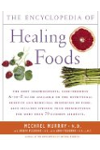 More About this Book
Encyclopedia of Healing Foods
From the bestselling authors of The Encyclopedia of Natural Medicine, the most comprehensive and practical guide available to the nutritional benefits and medicinal properties of virtually everything...
Continue Learning about Food Production & Health