The most important point to remember is that organic food means food. Period. Anything else is food plus chemicals. It provides us food sans the genetically modified seeds, without the use of pesticides, and with an optimal nutrient load (i.e., that which a plant or animal develops naturally). In that regard, it deserves more halos than many other halos dished out today in the food court, such as the terms superfoods, all-natural, and healthy.

In a general sense, eating organic food is more likely to satisfy you because it forces you to find foods close to Mother Nature. You're also likely to consume more plant-based nutrients that include phytochemicals for disease and wrinkle prevention, and to energize as nature intended.

But there's a caveat emptor to consider. While organic is healthier than chemically produced food, it cannot be the only deciding factor. Organic does not mean calorie appropriate, low sodium, low sugar, higher fiber, or nutrient balanced. You still have to evaluate organic products for these and other nutrition principles. Eating organic does not give you permission to ignore sensible portion control and achieving a balance of nutrients. So if you choose to have a helping of organic Oreos, for example (they do exist: "made from organic flour and sugar"), you still must take into consideration their fat and carbohydrate content and try to consume some healthy protein as well to get a better balance of nutrition.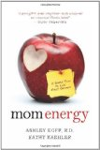 More About this Book
Mom Energy: A Simple Plan to Live Fully Charged
       From celebrated dietitian Ashley Koff and fitness trainer to the stars Kathy Kaehler comes Mom Energy, an exciting new way for moms to tap into their own natural and renewable sources of...
Continue Learning about Food Production & Health