Without antioxidants, many foods would spoil quite rapidly. The two most widely used antioxidants are butylated hydroxyanisole (BHA) and butylated hydroxytoluene (BHT). Like saccharin, these food additives have caused cancers in rats. However, there are other studies showing that these antioxidants actually protect against the development of cancers. In fact, many so-called experts in life extension have recommended that these substances be taken as a food supplement at very high doses, such as two grams per day.

Based on extensive research, we feel this recommendation is extremely unwise as it is 100 times the estimated acceptable intake of BHA, BHT, or the sum of both, as set by the Joint Food and Agriculture Organization of the United Nations/World Health Organization Expert Committee on Food Additives. It is also more than 100 times the estimated inhibitory activity of these compounds and may actually promote cancer. While BHA and BHT may be safe at low levels in foods, in the future they will most likely be replaced by naturally occurring antioxidants.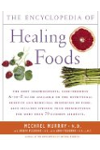 More About this Book
Encyclopedia of Healing Foods
From the bestselling authors of The Encyclopedia of Natural Medicine, the most comprehensive and practical guide available to the nutritional benefits and medicinal properties of virtually everything...
Continue Learning about Food Production & Health