Corn is one of the most common food allergens. One of the big concerns surrounding food safety right now is the widespread use of genetically modified corn. The insecticidal protein that the genetically modified corn was engineered to produce exhibits characteristics of known allergens. Possible health effects of this category of allergen include severe allergic reaction and anaphylactic shock. In addition, the pollen from genetically modified corn has been shown to contaminate naturally occurring corn. More specifically, if a farmer with a one-hectare plot plants a single row with genetically modified seed, it will overtake the natural corn in only seven years. Due to the possible negative health effects of genetically modified corn, we recommend using organic corn, cornmeal, and corn flour.

Corn contains moderate to high amounts of oxalate. Individuals with a history of calcium oxalate-containing kidney stones should limit their consumption of this food.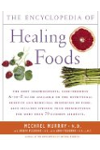 More About this Book
Encyclopedia of Healing Foods
From the bestselling authors of The Encyclopedia of Natural Medicine, the most comprehensive and practical guide available to the nutritional benefits and medicinal properties of virtually everything...
Continue Learning about Food Production & Health