The cuts with the least fat come from the flavorful loin section. Cuts taken from the center loin are not only the lowest in fat but the tenderest and, thus, the most expensive. Tenderloin, with only 26 percent of its calories coming from fat, is the leanest of all pork cuts.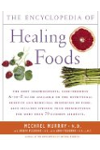 More About this Book
Encyclopedia of Healing Foods
From the bestselling authors of The Encyclopedia of Natural Medicine, the most comprehensive and practical guide available to the nutritional benefits and medicinal properties of virtually everything...
Continue Learning about Food Production & Health