When we eat processed foods, our bodies lose the capacity to self-heal efficiently as chronic inflammation takes over and our natural sources of "fixer uppers," such as antioxidants, get used up. In addition, without ample supplies nearby and continual replenishment of the nutrients we need to run our systems and natural defense mechanisms, the flames of aging, inflammation, and free-radical pandemonium hit high marks. And when the stress simmers over long periods of time -- perhaps years -- the entire waterfall effect among hormones, inflammatory chemicals, and free radicals sets the stage for accelerated aging. It also spells a recipe for energy disaster.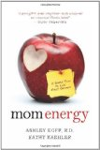 More About this Book
Mom Energy: A Simple Plan to Live Fully Charged
       From celebrated dietitian Ashley Koff and fitness trainer to the stars Kathy Kaehler comes Mom Energy, an exciting new way for moms to tap into their own natural and renewable sources of...
Continue Learning about Food Production & Health