Algal polysaccharides, or seaweed gums, are derived from brown seaweeds, such as alginates, and red seaweeds, such as agar and carrageenan, which is also known as Irish moss. Alginates form insoluble gels that are used as emulsifiers, thickeners, and binders in food production. Agar forms a gel that is soluble in hot water but not cold water. Agar is used as a culture medium for microbes as well as a stabilizer in many food items. Carrageenan can be broken into components that do and do not form gels. Carrageenan is used in many food items to thicken them and create a smooth texture.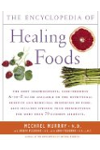 More About this Book
Encyclopedia of Healing Foods
From the bestselling authors of The Encyclopedia of Natural Medicine, the most comprehensive and practical guide available to the nutritional benefits and medicinal properties of virtually everything...
Continue Learning about Food Production & Health