One of the real concerns about food irradiation is that it might be used to mask poor sanitation practices in food production. For example, instead of taking measures to clean up and sanitize production facilities, food irradiation can be used to mask fecal contamination of meat products and poultry. According to federal law, irradiated food sold in stores in the U.S. must be identified with the green, flowerlike international symbol for irradiation. Labeling also must include the words "Treated with radiation" or "Treated by irradiation. " However, there is a move to allow the term "cold pasteurization" to be used instead. Moreover, since the federal government lacks jurisdiction over establishments selling prepared foods, irradiated foods are often sold without such labeling.
In addition, irradiated ingredients need not be identified as such on labels of prepared and processed foods. Like other label requirements, when an irradiated food is served at a restaurant or in food service, it does not have to be labeled.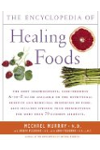 More About this Book
Encyclopedia of Healing Foods
From the bestselling authors of The Encyclopedia of Natural Medicine, the most comprehensive and practical guide available to the nutritional benefits and medicinal properties of virtually everything...
Continue Learning about Food Production & Health