It is especially important to purchase good quality nuts, especially peanuts and Brazil nuts, as researchers have isolated a number of field and storage fungi on poor-quality nuts. Of particular concern is the fungus Aspergillus flavus, which produces a poison called aflatoxin. A known carcinogen, aflatoxin is twenty times more toxic than DDT, and ingestion of this fungus has been linked to mental retardation and lowered intelligence.

To prevent aflatoxin ingestion, the FDA enforces a ruling that 20 parts per billion is the maximum aflatoxin permitted in all foods and animal foods, including all nuts and nut products. To ensure your own safety, try and purchase nuts from a grocery where the nuts have been stored in a dry, cool environment (the fungus grows when the temperature is 86 to 96oF and the humidity is high).

Roasting nuts is thought to provide protection against aflatoxin, while also increasing the nuts' digestibility. However, it's best to purchase nuts still in the shell, shell them at home just before use, and roast them at home if so desired.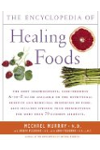 More About this Book
Encyclopedia of Healing Foods
From the bestselling authors of The Encyclopedia of Natural Medicine, the most comprehensive and practical guide available to the nutritional benefits and medicinal properties of virtually everything...
Continue Learning about Food Production & Health