Native to many parts of the world, especially the Northern Hemisphere, including North America, Europe, and Asia, blueberries have been consumed by man since prehistoric times. Native Americans were particularly fond of blueberries, as they were a key ingredient of pemmican, a traditional dish composed of the fruit and dried meat. The commercial development of blueberries, however, really did not begin until the beginning of the twentieth century, when they were successfully cultivated. There are now hundreds of varieties that exist as a result of both accidental and intentional crossbreeding.

Blueberries continue to grow wild throughout the woody and mountainous regions of the U.S. and Canada, where they are also grown commercially on farms. In Europe, the fruit is rarely found growing wild, but is extensively cultivated. Blueberries have only recently been introduced in Australia.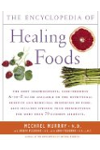 More About this Book
Encyclopedia of Healing Foods
From the bestselling authors of The Encyclopedia of Natural Medicine, the most comprehensive and practical guide available to the nutritional benefits and medicinal properties of virtually everything...
Continue Learning about Food Production & Health