With chemical extraction, the material is typically rolled into meal, for example, seed meal or cornmeal, and then mixed with a chemical solvent, such as hexane. Once the solvent has separated the oil from the meal, the mixture is exposed to high heat to evaporate the solvent. Although most of the solvent is removed, traces can still be found. The oil that is produced is usually further processed by means of degumming, bleaching, deodorizing, etc., to produce a "refined" oil. Refined oil is one that has had some of the "impurities" removed from it, such as vitamin E, lecithin, chlorophyll, carotenes, aromatic oils, and free fatty acids. Many of these impurities have important health-promoting properties. In the process of refining, the oil is exposed not only to extremely high heat, but also to caustic substances, such as phosphoric acid and sodium hydroxide. Because the refined oil has been stripped of most of its natural protection against damage, synthetic antioxidants are added.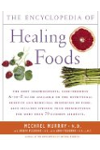 More About this Book
Encyclopedia of Healing Foods
From the bestselling authors of The Encyclopedia of Natural Medicine, the most comprehensive and practical guide available to the nutritional benefits and medicinal properties of virtually everything...
Continue Learning about Food Production & Health