While fish farms now contribute a large amount of the fish being consumed, including more than 50 percent of salmon, the bottom line is that wild "free range" fish are superior in many ways to their farm-raised counterparts. Several studies have also shown that farmed salmon accumulate more cancer-causing pesticide residues than wild salmon. However, these studies fail to make a strong case that eating farm-raised fish poses a significant safety concern. To ensure the safety of the food supply, the FDA has studied PCBs and set limits for tolerable levels that are not associated with risks to human health. At 0.056 part per million, the level of PCBs found in farmed salmon is still 1/35 times the unsafe level of 2.0 ppm.

The reason that farm-raised fish have higher levels of pesticides appears to be the type of feed they are given. Farmed fish are given feed pellets that are most often made from fish meal and fish oil extracted from sardines, anchovies, and other ground-up fish. Pesticides, including those now outlawed in the U.S., have circulated into the ocean, where they are absorbed by marine life and accumulate in their fat. If the fish oil is not properly distilled to reduce the concentrations of these pesticides, it can lead to much higher concentrations in the salmon feed.
There is also concern about some of the synthetic carotenes being used to color farmed salmon. In the wild, salmon absorb carotenes from eating pink krill. On the aqua farms, their rich pink hue is supplied by either synthetic astaxanthin or natural astaxanthin derived from algae or krill. Without the help of supplemental astaxanthin, the flesh of farmed salmon would look similar to that of halibut.

While astaxanthin appears to cause no harm, there does appear to be some risk related to the use of the synthetic carotene canthaxanthin, as this compound was linked to retinal damage in people taking it as a sunless tanning pill. Although no government has banned canthaxanthin from fish feed, most salmon growers are now using astaxanthin instead. Unfortunately, for consumers, there is no real way to know whether they are getting salmon colored with astaxanthin or canthaxanthin.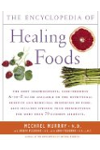 More About this Book
Encyclopedia of Healing Foods
From the bestselling authors of The Encyclopedia of Natural Medicine, the most comprehensive and practical guide available to the nutritional benefits and medicinal properties of virtually everything...
Continue Learning about Food Production & Health