The healthiest and most humane approach is to purchase free-range, organically fed chickens.

Beyond this, your chicken selection should revolve around the freshness date and visual inspection of the chicken meat to make sure it is fresh. If you spend time at your grocer or butcher shop, looking at the various meats, you will begin to get a sense of what very fresh chicken looks like. Typically, it should look "alive," and the meat should give a bit when gently pressed. Furthermore, it should not smell "foul" or have a strong odor. The color of the skin may vary depending on its feed and type, but it should be somewhat translucent and not mottled.

If you are purchasing chicken already cut into pieces, what you should purchase depends on your needs. If you are looking for a healthy, everyday meal, it is probably best to choose the less fatty white meat. Whole chicken is generally a better choice freshness wise because this ensures that the maximum amount of surface area is not exposed to air. Whole chickens tend to be a better choice economically as well. Frozen chickens should be fully frozen and without visible freezer burn or frozen liquid inside that may signify the meat that has thawed and been refrozen.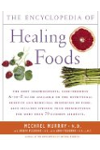 More About this Book
Encyclopedia of Healing Foods
From the bestselling authors of The Encyclopedia of Natural Medicine, the most comprehensive and practical guide available to the nutritional benefits and medicinal properties of virtually everything...
Continue Learning about Food Production & Health