The processes involved in making a transgenic crop are as follows:
Identification of an organism containing the desired gene; this can be from a plant, animal, or microorganism.
Isolation of the desired gene from that organism.
Creation of a modified genetic sequence by the fusion of the desired gene, a promoter sequence, which controls the functioning of the gene, and a marker gene, for example, a fluorescent protein or an antibiotic resistance factor that allows the gene's presence to be detected even when the target gene is not being actively expressed.
Multiplication of the recombinant sequence, usually in bacteria, to produce multiple copies.
Insertion of the copies of the desired gene into the organism to be modified, using either a particle (gene) gun or a biological agent.
Selection of those organisms that have successfully taken up the desired gene using a selection test that recognizes only organisms that have adopted the marker gene.
Multiplication of the modified plants.
The modification made to a crop plant can relate to a factor of the plant that influences its physical characteristics. For example, one of the first GM foods was a tomato, the FlavrSavr tomato developed by Calgene. When natural tomatoes ripen, a gene is triggered to produce a chemical that makes the fruit go soft and eventually rot. With this gene modified, the FlavrSavr tomato has a longer shelf life and firmer fruit.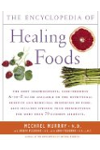 More About this Book
Encyclopedia of Healing Foods
From the bestselling authors of The Encyclopedia of Natural Medicine, the most comprehensive and practical guide available to the nutritional benefits and medicinal properties of virtually everything...
Continue Learning about Food Production & Health