The art of creating chocolate from cacao beans differs slightly from plant to plant, but all chocolatiers follow the same general pattern. First, all manufacturers carefully catalogue each shipment of beans according to the particular type and its origin. Later, this allows them to maintain exact control over the flavor by selecting a variety of beans for roasting. The finest chocolatiers may combine up to twelve different varieties of beans from all over the world. After being sorted by hand, since each variety of beans is roasted separately, the beans are carefully stored in an isolated area, so the sensitive cacao does not absorb any strong odors.

The first step in the actual manufacturing process is cleaning. The cacao beans are sent through a cleaning machine that removes dried cacao pulp, pieces of pod, and any other extraneous material still present. Once thoroughly cleaned, the beans are weighed and then blended.

To bring out their characteristic chocolate aroma, the beans are roasted in large rotary cylinders.After roasting, the beans are quickly cooled and their thin, now brittle outer shells are removed, usually with the help of a giant winnowing machine called a "cracker and fanner" that passes the beans between serrated cones, separating the nibs - the kernels of the chocolate bean, which are the basic product used for chocolate production -- into large and small grains while a fan blows away the thin, light shells.

The pressed cake that remains after the cocoa butter's removal is then cooled, pulverized, sifted into cocoa powder, and, if it's residual cocoa butter content is 10 percent or more, packaged for sale to grocery stores or put into bulk for use as a flavoring by dairies, bakeries, and confectionery manufacturers.

While cocoa is made by removing most of the cocoa butter, all types of chocolate -- whether dark, bittersweet, or milk -- are made by adding it. In addition to enhancing the flavor, cocoa butter makes chocolate rich and creamy.

Once in the mold, the chocolate is sent to the cooling chamber, where cooling proceeds at a fixed rate that keeps the chocolate's flavor intact. The bars are then removed from the molds and passed along to wrapping machines to be packed for shipment. In addition to being shipped as bars, chocolate is also frequently shipped as a liquid to candy, cookie, and ice cream manufacturers.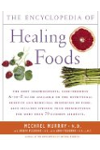 More About this Book
Encyclopedia of Healing Foods
From the bestselling authors of The Encyclopedia of Natural Medicine, the most comprehensive and practical guide available to the nutritional benefits and medicinal properties of virtually everything...
Continue Learning about Food Production & Health