The meat of wild animals that early humans consumed was very different from the industrially produced, shrink-wrapped meat we find in supermarkets today. The demand for tender meat has led to the breeding of cattle whose meat contains 25 percent to 30 percent fat, or more. In contrast, meat from free-living animals and wild game has a fat content of less than 4 percent.

It's not just the amount of fat, however, that distinguishes industrially produced meat. Its composition is also different. Domestic beef contains primarily saturated fats and virtually no beneficial omega-3 fatty acids, while the fat of wild animals contains more than five times the polyunsaturated fat per gram and has substantial amounts, about 4 percent, of omega-3 fatty acids. Range-fed animals also contain ten times as much conjugated linoleic acid (CLA) as grain-fed animals. CLA is a slightly altered form of the essential fatty acid, linoleic acid. It occurs naturally in meat and dairy products. CLA was discovered in 1978 when researchers at the University of Wisconsin were looking for cancer-causing compounds that result from cooking. Instead, they found CLA, which appears to be an anticancer compound. Preliminary studies show that CLA might reduce the risk of heart disease and cancer.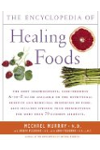 More About this Book
Encyclopedia of Healing Foods
From the bestselling authors of The Encyclopedia of Natural Medicine, the most comprehensive and practical guide available to the nutritional benefits and medicinal properties of virtually everything...
Continue Learning about Food Production & Health