Manipulating the genetics of foods is not new. Traditional crop and animal breeding has been practiced since the early domestication of crops and livestock. Through traditional breeding and crossbreeding methods, genes have been transferred with the goal of exhibiting particular desirable traits. Natural breeding techniques are usually a slow process, given the nature of crop growing seasons and animal generation times. With modern genetic engineering techniques, however, changes can be made virtually immediately, and there are much greater manipulation options, including moving genes within or between species. It is the movement of genes between species that is of the greatest concern.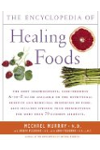 More About this Book
Encyclopedia of Healing Foods
From the bestselling authors of The Encyclopedia of Natural Medicine, the most comprehensive and practical guide available to the nutritional benefits and medicinal properties of virtually everything...
Continue Learning about Food Production & Health