Organic farming practices work to preserve and protect the environment by maintaining a restorative and sustainable bio system, which improves soil quality, preserves water purity, encourages biodiversity, and, by nourishing the soil, produces plants rich in flavor as well as nutrients.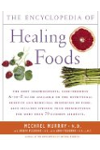 More About this Book
Encyclopedia of Healing Foods
From the bestselling authors of The Encyclopedia of Natural Medicine, the most comprehensive and practical guide available to the nutritional benefits and medicinal properties of virtually everything...
Organic farming involves growing crops without the use of some synthetic pesticides, synthetic fertilizers, bioengineering, or irradiation. Similarly, only antibiotic-free or growth hormone-free animals can be used to produce organic meat, poultry, eggs, and dairy foods.

Organic foods have not been shown to be healthier or more nutritious than conventionally grown/raised foods. However, studies have shown that organic farming can help the environment by reducing pesticide use, energy use, greenhouse emissions, and by increasing biodiversity in fields.

Unfortunately, organic foods tend to cost more. For example, organic produce can cost around five to about 70 percent more than conventional grown/raised foods.

Continue Learning about Food Production & Health