Different types of organisms cause a variety of symptoms such as:
diarrhea, vomiting, fever, headache, burning or tingling in the throat; reddening of the face and neck; reversal of hot and cold sensations: tingling in fingers, lips or toes; joint and muscle pain; numbness, dizziness, disorientation, memory loss, seizures and jaundice.
The microbe or toxin causing food borne illness enters the body through the gastrointestinal tract and often causes the first symptoms there, so nausea, vomiting, abdominal cramps, and diarrhea are common symptoms. While most cases of food borne illness are mild, you should consult a physician immediately if you experience any of the following:
Temperature over 101.5 degrees F., measured orally
Blood in stools
Prolonged vomiting that prevents keeping liquids down, which can lead to dehydration
Signs of dehydration, including decrease in urination, dry mouth and throat, and feeling dizzy when standing up
Diarrheal illness that lasts more than three days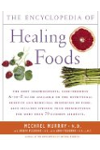 More About this Book
Encyclopedia of Healing Foods
From the bestselling authors of The Encyclopedia of Natural Medicine, the most comprehensive and practical guide available to the nutritional benefits and medicinal properties of virtually everything...
Continue Learning about Food Poisoning
When food starts to rot it develops bacteria, breeds viruses, and may be infested with parasites. These or the toxins they produce may cause food poisoning. Care in putting away leftovers and tossing out questionable food will pro...
tect you. Some of the bacteria can be quite dangerous, including salmonella and E. coli. Several years ago, e coli infections traced to improperly cleaned lettuce resulted in severe illness and forced the closure of the Chi-Chi's restaurant chain.
More