More than 250 different organisms have been documented as being capable of causing food borne illness, including a variety of bacteria, viruses, and parasites. However, poisoning can also occur due to ingestion of harmful toxins or chemicals from organisms that have contaminated the food. For example, botulism occurs when the bacterium Clostridium botulinum grows in foods and produces a powerful paralytic toxin. The botulism toxin can produce illness even if the bacteria are no longer there. Most of the microorganisms that cause food borne infections are those commonly present in the intestinal tracts of healthy animals. Meat and poultry can become contaminated during slaughter by contact with even small amounts of intestinal contents, while fresh fruits and vegetables can be contaminated if they are washed or irrigated with water that is contaminated with animal manure or human sewage.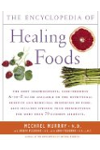 More About this Book
Encyclopedia of Healing Foods
From the bestselling authors of The Encyclopedia of Natural Medicine, the most comprehensive and practical guide available to the nutritional benefits and medicinal properties of virtually everything...
Continue Learning about Food Poisoning Causes