Food intolerance is a chemical reaction in your body that does not involve the immune system. It is not an allergy. Classic examples of food intolerance include lactose intolerance, heartburn, and irritable bowel syndrome.

Lactase deficiency is as one of the most common types of food intolerance. When your body doesn't have enough of the lactase enzyme, you cannot properly digest lactose, the sugar that is found naturally in milk and in milk products. Symptoms of lactose intolerance tend to include bloating, abdominal cramps, and diarrhea.
Food intolerance is an abnormal response to food, and its symptoms can resemble those of food allergy. Food intolerance, however, is far more prevalent, occurs in a variety of diseases, and is triggered by several different mechanisms that are distinct from the immunological reaction responsible for food allergy. The most important thing to keep in mind is that the body, when irritated, will appear intolerant to most of that which is presented because it is trying to get our attention. It's irritated to the point anything that goes in will be seen as an annoyance. So working on digestive wellness overall as opposed to troubleshooting certain intolerances is the prescription. In other words, if you are lactose intolerant and also have other intolerances, just switching to lactose-free products won't necessarily heal your system.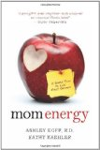 More About this Book
Mom Energy: A Simple Plan to Live Fully Charged
       From celebrated dietitian Ashley Koff and fitness trainer to the stars Kathy Kaehler comes Mom Energy, an exciting new way for moms to tap into their own natural and renewable sources of...
Many food intolerances can be thought of as irritant responses rather than an immune system problem. Food intolerances can occur when a child is unable to properly digest or break down the food. For example, people with lactose intolerance are missing the enzyme lactase and have trouble digesting milk and dairy products.

In general, children with food intolerances do not have acute health risks if the food is ingested in small amounts.
Continue Learning about Food Allergies & Food Intolerance