The following are foods you should not eat (contain soy) if you have a soy allergy:
Drinks:
Cocoa mixes that contain soy
Ovaltine
Powdered drink mixes with soy
Nondairy creamers
High protein powder mixes with soy
Milk and dairy:
Tofu
Cheese with soy
Soy-based milks, plain or flavored
Soy infant formulas
Soy yogurt
Meats and other proteins:
Baby food meats or combination dinners with soy
Breaded or self-basting meats, fish, and poultry with soy
Cold cuts or frankfurters with soy
Imitation bacon bits
Prepared dinners with soy
Vegetarian burgers and sausages
Tofu
Soy protein isolate
Fruits:
Canned or frozen fruits processed with soy
Vegetables:
Any breaded, canned or frozen vegetables with soy
Potatoes, instant, with soy
Soy beans, edamame
Breads, cereals and pasta:
Bread and rolls with soy
Cold or hot cereals with soy
Crackers made with soy
Pancake and waffle mixes made with soy
Pasta, macaroni, noodles and spaghetti prepared with soy
Soy flour, meal, grits, or fiber
Zwieback
Soups:
Soups made or prepared using soy (Examples: Campbell's cream of celery and cream of chicken contain soy protein isolates)
Fats:
Butter or margarine with soy
Gravy mixes with soy
Imitation sour cream
Non-dairy creamers or powdered coffee cream with soy protein
Oils with soy (may be ok in some people)
Peanut butter with soy
Salad dressings with soy
Vegetable shortenings with soy
Desserts and sweets:
Cakes or cookies with soy
Candy (even chocolate) with soy
Ice cream with soy
Pretzels and chips with soy
Pudding mixes containing soy
Tofutti
Miscellaneous:
Bac-os bacon-flavored chips with soy
McCormick salad toppings with textured soy flour, soy nuts, or hydrolyzed vegetable protein
Soy sauce (may be okay)
shoyu, tamari, soya
Spaghetti sauces with soy
Steak sauce with soy
Stir-fry sauce with soy
Worcestershire sauce containing soy
Miso
Tempeh
Natto
Anyone following a soy-free diet due to a soy allergy must avoid:
Akara
Hydrolyzed soy protein
Miso
Soy sauce
Soy grit
Soy nuts
Soy sprouts
Soy protein concentrates
Soy protein isolate
Tamari
Tempeh
Textured vegetable protein
Tofu
Vegetable oil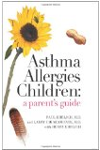 More About this Book
Asthma Allergies Children: A Parent's Guide
Asthma and allergies are at epidemic proportions. It doesn't have to be that way. Two experienced pediatric allergists tell everything a conscientious parent needs to know about these conditions,...
Continue Learning about Food Allergies & Food Intolerance