What other food allergies are associated with a peanut allergy?
From a naturopathic standpoint, many young patients have cow's milk, egg and even gluten allergies -- all of which can increase inflammatory cells in the body, thus causing increased susceptibility to an exaggerated reaction to peanut. In my experience, removing offending foods like cow's milk and gluten can often lower the child's reactiveness to other foods like peanuts.
Continue Learning about Food Allergies & Food Intolerance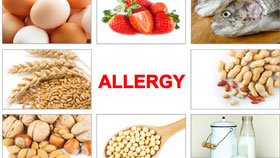 Food allergies occur when the body attacks a food it mistakes as harmful, causing symptoms such as nausea, stomach pain, diarrhea, shortness of breath or hives. With food intolerance, the digestive system alone rejects the food, f...
inding it difficult to digest properly. Foods such as peanuts, shellfish, eggs, soy or wheat are the most common type of food allergens.
More