Patients are rarely allergic to more than three or four major foods, yet radioallergosorbent (RAST) tests will frequently register many more. Two-thirds of skin tests will also register positives that don't stand up under double-blind food challenges. Yet, anxious parents, armed with a positive blood or skin test, will frequently err on the side of caution and exclude all the offending food groups. The result is essentially malnutrition. Our practices regularly see two or three new patients per month who have "dropped off the growth curve." That is, they are not getting enough nutrition to keep up with their peers physically or, presumably, mentally.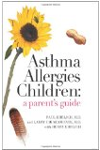 More About this Book
Asthma Allergies Children: A Parent's Guide
Asthma and allergies are at epidemic proportions. It doesn't have to be that way. Two experienced pediatric allergists tell everything a conscientious parent needs to know about these conditions,...
Continue Learning about Food Allergies & Food Intolerance