I am against outright bans on peanuts because they are unenforceable in the long run. Kids make mistakes, or they cheat. The New York City Department of Education, which has more than 1,000 schools, will not institute a system-wide ban. Instead, we suggest that families take precautions on their own, and enlist key school personnel in the effort.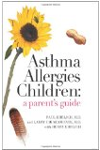 More About this Book
Asthma Allergies Children: A Parent's Guide
Asthma and allergies are at epidemic proportions. It doesn't have to be that way. Two experienced pediatric allergists tell everything a conscientious parent needs to know about these conditions,...
Continue Learning about Food Allergies & Food Intolerance