Restaurants are becoming safer for people with food allergies with the addition of food allergy statements on menus. Watch public health specialist Peter DeLucia, MPA, explain how restaurants are working to accommodate those with food allergies.
The best solution to make restaurants safe for people with food allergy is education, and in this area, progress is being made. The Food Allergy Initiative (FAI) has given courses to restaurateurs for the kitchen and the dining area. We need to reward the restaurants that commit staff time to take these courses. Restaurateurs have a stake in this: Sooner or later the heavy hand of the tort bar is going to find its way into this, and lawsuits, well founded or not, will commence. In New York, famous old restaurants have gone out of business after a health code violation -- think what would happen to a restaurant that sent a child to the hospital.

Other steps are being taken to better educate restaurant employees. The Food Allergy & Anaphylaxis Network (FAAN) and the American Academy of Allergy, Asthma and Immunology, along with the National Restaurant Association, produced a pamphlet on food allergies, which has been distributed to tens of thousands of association members. The brochure explains what restaurants can do to help customers who need to avoid certain foods, defines anaphylaxis, and advises employees what to do if food allergy incidents occur.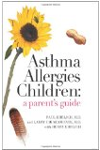 More About this Book
Asthma Allergies Children: A Parent's Guide
Asthma and allergies are at epidemic proportions. It doesn't have to be that way. Two experienced pediatric allergists tell everything a conscientious parent needs to know about these conditions,...
Restaurants are becoming more knowledgeable and aware of food allergies. In fact, many restaurants have allergen safe or precautionary statements on their menus. This said, if you have a food allergy, it is ALWAYS important to discuss your concerns and specific dietary restrictions every time you visit the restaurant. Recipes and cooking methods can change without notice.
Continue Learning about Food Allergies & Food Intolerance