If you have a peanut allergy, your immune system has identified peanut protein as a threat to the body. This means that when you come into contact with peanuts, your immune system produces an antibody that clings to white blood cells. Those antibodies then release certain chemicals, such as histamine, that cause inflammation of tissue and lead to allergy symptoms. In most allergic reactions to peanuts, these symptoms may include an itchy throat, hives, indigestion, difficulty breathing and runny nose. In severe, sometimes life-threatening cases, peanut allergy can trigger an anaphylactic reaction where heart rate speeds up, blood pressure falls and the airway constricts.
Anaphylactic reactions can be caused by foods, medications, insect stings, and latex, but the most common cause is peanuts. The symptoms of anaphylaxis can begin minutes after someone comes into contact with the peanuts. These symptoms may include difficulty breathing, a sudden blood pressure drop and weak or rapid heartbeat. For people who have severe peanut allergies, doctors usually prescribe an epinephrine auto-injector that should be carried at all times. Epinephrine will reopen airways and retighten blood vessels to increase blood pressure.
Continue Learning about Food Allergies & Food Intolerance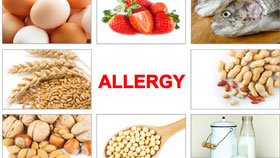 Food allergies occur when the body attacks a food it mistakes as harmful, causing symptoms such as nausea, stomach pain, diarrhea, shortness of breath or hives. With food intolerance, the digestive system alone rejects the food, f...
inding it difficult to digest properly. Foods such as peanuts, shellfish, eggs, soy or wheat are the most common type of food allergens.
More