Kids with food allergies might get teased by others who might not understand why they are different or need to stay away from some foods or need to eat special foods. However, food allergies are serious and the best way to handle this is to practice role playing at home with your child and provide education/awareness to the children at school and in activities that your child participates in. If you suspect that your child is getting teased, take immediate action and involve others in the education process so that your child has a safe environment and access to participate in activities like other children.
When children with food allergies develop new, more independent social lives, it becomes harder and harder to manage their allergy. When they are with their peers at coffee shops and malls they will be tempted by easy access to ice cream and other possibly verboten foods. If their friends are ordering sundaes, who's to say that they may not put peanuts on them, even if they risk accidental exposure? They don't want to be the one kid at the confirmation parties or Bar Mitzvahs who never gets to eat and always has to watch out for what others have eaten. These feelings of strangeness can cause a lonely period of life to be even lonelier, although there are always those who feel special—usually girls—because they get to carry medicine with them.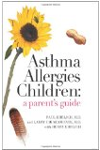 More About this Book
Asthma Allergies Children: A Parent's Guide
Asthma and allergies are at epidemic proportions. It doesn't have to be that way. Two experienced pediatric allergists tell everything a conscientious parent needs to know about these conditions,...
Continue Learning about Food Allergies & Food Intolerance