Experiencing a food allergic reaction especially a severe reaction can be very traumatic for children. This might lead to kids developing food phobias. However, with education, support and positive guidance from the child's healthcare team (parents, physicians, dietitian), we can address food phobias in a positive manner.
The effects of allergy, particularly food allergy, on children can be both subtle and substantial. Sally Noone, who conducts clinical food allergy studies at Mount Sinai Hospital in New York City, says that she was drawn into the field by the case of a girl who was hospitalized after a milk-allergy attack at the age of 4. This little girl, despite the success of her parents at insulating her from further such exposures, became phobic about food several years later, even with the lunches that her mother packed for her to take to school. It took psychotherapy to overcome her difficulties.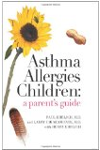 More About this Book
Asthma Allergies Children: A Parent's Guide
Asthma and allergies are at epidemic proportions. It doesn't have to be that way. Two experienced pediatric allergists tell everything a conscientious parent needs to know about these conditions,...
Continue Learning about Food Allergies & Food Intolerance