There are a variety of tests and procedures a doctor can use to diagnose wheat allergies. Doctors may have you make a food diary detailing what you eat and how you react to it, or they may do a skin test to see how you react to various allergens. Sometimes doctors at a hospital will watch and monitor you while you try various foods and see how your body reacts. Your doctor may also just ask you to stop eating foods that seem to be giving you trouble and see if that solves the problem, or do a blood test to look for the proper antibodies.
Continue Learning about Food Allergies & Food Intolerance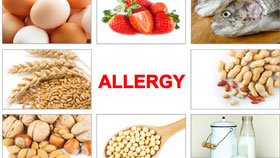 Food allergies occur when the body attacks a food it mistakes as harmful, causing symptoms such as nausea, stomach pain, diarrhea, shortness of breath or hives. With food intolerance, the digestive system alone rejects the food, f...
inding it difficult to digest properly. Foods such as peanuts, shellfish, eggs, soy or wheat are the most common type of food allergens.
More