A new element has entered the peanut allergy discussion, which is the training of dogs to detect peanuts in a child's vicinity. Inspired by drug- and bomb-sniffing dogs, these animals travel with their kids to malls and birthday parties - anywhere they might encounter stray allergens. The pooches carry emergency medication in special pouches.

I feel that children with sensitivity levels so extreme that they might benefit - down to fleeting exposure to dust or touch, as opposed to actual ingestion - are rare. The economics are extreme: $10,000 to $15,000 to train each dog, so it's hardly a mass solution. Carrying injectable rescue medication - EpiPen or Twinject - is an effective fail-safe. Research shows that fatalities generally result from unexpected exposure, like climbing a mountain with a companion who is carrying energy bars that contain trace peanuts. Or when someone who is unaware of their allergy is exposed to peanuts a second time. Under any other circumstances, a 911 call should bring life-saving relief in time.

Finally, traveling with Fido could engender a false sense of security, and somehow excuse parent and child from developing the skills they need to be vigilant on their own behalf. You can't take a dog with you everywhere. Does that mean a child can only go where his "bubble" will allow?

And we can envision the day when the peanut-allergic kids face off against the dog-allergic ones. Something's got to give.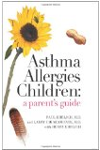 More About this Book
Asthma Allergies Children: A Parent's Guide
Asthma and allergies are at epidemic proportions. It doesn't have to be that way. Two experienced pediatric allergists tell everything a conscientious parent needs to know about these conditions,...
Continue Learning about Food Allergies & Food Intolerance