Women with a propensity to allergy should avoid eggs, milk, peanuts, and other high-allergy foods during their third trimester of pregnancy and while breast-feeding, in order to minimize the chances that the allergy clock will start running early for their allergy-prone offspring. Once that clock does start ticking, it's fairly predictable and difficult for both child and parent. Painful conditions like colic, vomiting, and general crankiness, which take a toll on parental nerves in addition to children's health, can be followed by eczema and other symptoms.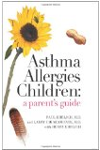 More About this Book
Asthma Allergies Children: A Parent's Guide
Asthma and allergies are at epidemic proportions. It doesn't have to be that way. Two experienced pediatric allergists tell everything a conscientious parent needs to know about these conditions,...
Continue Learning about Food Allergies Causes & Risks