Simple things like stretching your hip flexors which become tight after sitting for an extended period of time and stretching your chest and back can help with stiffness. Stretch any area of the body that will spend excessive amounts of time in a flexed or shortened position and this will help with stiffness in the body after sitting.

Sitting can make you stiff!
Surprisingly, something as relaxing as sitting can make you very stiff. This is usually caused by the shortening of the hip flexors while you are in a sitting position for an extended period of time. Keep your hip flexors loose and if you have been sitting for a while, stretch your hip flexors when you get up.
Continue Learning about Flexibility Training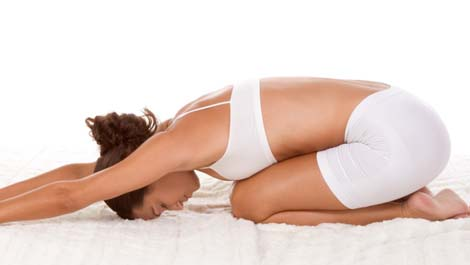 Flexibility training involves exercising at a low intensity to improve the range of motion of a joint. Static, active and dynamic stretching are all forms of flexibility training. By engaging in flexibility exercises you can impro...
ove posture, prevent muscular imbalances leading to injuries and reduce soreness after a workout.
More