Common errors when doing the assisted-forearm stretch (exercise restores normal range of motion to the pronators teres and quadrates and supinator muscles of the forearm):
Twisting the wrist or upper forearm portion of the forearm too aggressively can cause pain.
Holding the wrist portion too close to the hand can cause pain.
Squeezing the forearm too tightly while rotating causes pain.
Allowing the shoulder to lose its ideal position reduces the stretch.
The upper arm often will slide out or in during the stretches. In order to get the maximum stretch, don't let it move.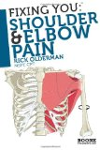 The assisted-forearm stretches is a series of flexibility exercises designed to lengthen the muscles of the forearm and to increase range of motion of the wrist and elbow. The assistance portion of the stretch is done by having the opposite hand push the stretch a little further. You must take caution though when performing these assisted stretches. It is easy to over stretching these muscles, which can lead to internal joint damage at the wrist or elbow and may even cause small muscle damage. Overstretching can also stimulate sensory fibers and actually reverse the effects of stretching.
Continue Learning about Flexibility Training