To stretch your biceps, lie on your back with elbow extended and rotate your forearm so the palm of your hand points down and away from you (pronated). Be sure your shoulder doesn't elevate from the table. Slightly rotate your arm to find the best stretch.

Stretching too aggressively will cause elbow pain. Place another pillow under your shoulder to decrease the stretch to the biceps and therefore elbow compression.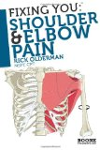 Extend your forearm until the arm is fully extended, grab a hold of your hand and place it also in an extended position. Apply gentle pressure pulling down on the hand until you feel a stretch in the biceps. Hold this position for 30 seconds, repeat on the other side.
Continue Learning about Flexibility Training