The joint structures of the lumbar vertebrae in the lower back allow for very limited side bending, so there is no need to force this movement. Begin in the seated upright position, and gently lean your right shoulder straight down toward your right hip. Do not lean out away from your body, since this may cause muscle strain and will not increase any joint movement. Again, lean only as far as you comfortably can, and when you feel tightness or pulling on the opposite side, or compression and pinching on the same side, stop and hold that position for three seconds. Then come back to the neutral position (sitting in an erect and upright posture looking straight ahead) and repeat the procedure five to seven times. Try to notice a slight increase in the movement with each repetition. Finally, lean your left shoulder straight down toward your left hip, gently complete another five to seven repetitions to the left, and then combine the movements into a gentle and fluid side-to-side bending motion.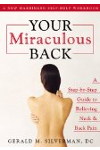 To increase flexibility in your lower back:
Avoid long periods of sitting (get up and move every three hours)
Stretch your hamstrings (back of thighs), hip flexors (muscles on front of hips) and latissimus dorsi (large back muscle).
Engage in a minimum of 30 minutes of light physical activity five days per week.
Continue Learning about Flexibility Training