Flexibility is like real estate - it all depends on location. Some may be able to twist their necks around like a horror-movie monster, while others probably have hamstrings that are tighter than football pants. If you want to test your flexibility, try these exercises. But do not force them or elicit pain - they're not designed to cause you disability, just to test your current state. If you have doubt, only do them with guidance of a professional. You can also perform these tests routinely to improve your flexibility.

Forearms: Place your hands against each other upside down with the backs of your hands against each other for 30 to 60 seconds. If any numbness or tingling develops on the surface of the thumb, index or middle fingers, it may mean you have carpel tunnel syndrome.

Hips: Sit and rotate your legs approximately 45 degrees in both directions. Normal rotation is 45 degrees.
Shoulders: Test both internal and external rotation of the shoulder. Reach behind you with one arm and touch the opposite shoulder blade. Reach up over your shoulder touching your reaching hand to the inside of the same shoulder. If you can't reach those points, you likely have weak rotator cuffs.

Neck: Tilt your head down to your chest and then up and back so you're looking toward the ceiling. Normal neck flexion allows your chin to be about a finger's length away from your chest. Normal neck extension means that eye, ear lobe, and shoulder are all in line. Now, that's usually a little bit further than most people can do, so don't force it; just work gradually to get a better range of motion.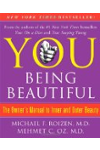 Continue Learning about Flexibility Training