I love my Wii. I used the WiiFit for rehabilitation after knee surgery. I needed to get cardiovascular work back into my exercise routine so I created a circuit and my 1 minute cardio was boxing. The WiiFIt is also a great help in the one component that is overlooked in training…balance! There are many activities that show your center of balance. This helps to increase awareness of your posture and identify areas of adjustment. As with any exercise routine, variety is important to avoid overuse injury. If you play the same game for hours a day, you are setting yourself up for just that. An additional bonus is it helps with hand eye coordination like other video games and at the same time, includes physical activity.
It can be, but it also carries a risk of overuse type injuries. There have been some recent studies looking at using system like a WiiFit in senior populations and in injury rehabilitation. Results indicate improvements in performance and decreased injuries, along with improved mood.
Continue Learning about Fitness Resources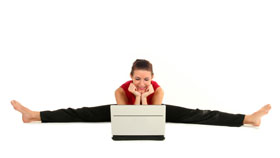 Books, DVDs and websites are just a few of the great resources for when you are beginning a fitness program or want to change the pace of your current program. These resources can help with motivation, demonstrate proper technique...
s and add variety to your fitness routine.
More