The best exercise to correct forward head posture is to perform chin tucks or cervical retraction exercise. To perform this exercise follow the steps below:
Preparation
Being by sitting with your back flat against a wall.
Place a pad, or towel behind the head.
Movement
Draw the navel inward to stabilize the spine.
Relax the shoulders.
Slowly push the head straight backward in to the towel or pad.
Hold the position for 5 seconds and relax.
Repeat movement for 3 sets of 8 repetitions. Perform the exercise daily.
The neck extensor stretch exercise improves range of motion in your neck and restores the neck-extensor muscles to their proper lengths. This is a particularly helpful exercise for those with a forward head. For those recovering from an acute injury of less than three months, be gentle when doing this exercise as it may stretch muscles too aggressively.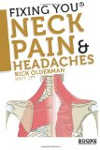 Continue Learning about Fitness Goals