Using moist heat applications to your back or painful area before and after exercise may help you to stay with your program until your muscles strengthen and the pain subsides. Heat increases blood flow to the site and decreases joint stiffness. Regular moist heat applications also alleviate pain temporarily, reduce muscle spasms, and help to decrease inflammation.

When using moist heat, make sure it is not too warm, or you can burn your skin. Use the moist heat application for at least 15 minutes before exercise, and then use it again immediately following exercise. (You can also use this anytime you want additional relief from back pain.) Some patients find great relief when they do their exercises in a hot tub or sitting on a stool that has rubber tips for safety under a warm shower (comfortable but not too hot). The constant heat flowing on the affected site helps to keep pain minimal and allows for easier movement.

Choose from the following popular types of moist heat:
- Warm shower (sit on chair, if needed)
- Warm, moist towel or cloth
- Warm bath
- Warm whirlpool or hot tub
- Heated swimming pool
- Hot packs (you can buy some which can be warmed in a microwave, such as Bed Buddy)
- Moist heating pad
- Paraffin mineral oil therapeutic mixture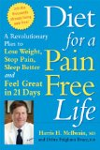 Heat therapy can be useful to help increase blood flow in the applied area, reduce stiffness, and decrease muscle spasms. Individuals new to exercise may be less tolerant to muscle soreness and joint stiffness. Applying moist heat to trouble areas can help these individuals better deal with the discomforts from exercise.
Continue Learning about Fitness Goals