Moderate activity includes any type of activity in which the core body temperature is raised, and you sweat but can still carry on a conversation with someone. Vigorous exercise is an exercise so intense that you are only able to answer short yes or no type questions. This is known as the sing-song test. With moderate exercise, you will be able to sing a song, or carry on a conversation and still be able to continue the activity. Examples would include a brisk walk, a nice hike, yoga, moderate intensity weight training, a light jog, washing the car, cleaning the house, mowing the lawn. Vigorous activity will be of a high enough intensity that you are only able to give short responses like yes or no answers to questions. Examples would include a fast jog or run, climbing a steep hill or mountain, strenuous weight training, carrying heavy bags of concrete and strenuous calisthenics. To maximize your health you should perform lots of moderate physical activity each day and incorporate some vigorous activity into your routine 2-3 times a week. The more activity and the more vigorous activity you perform the fitter you will become and the greater health you will experience.

Moderately vigorous activities are more strenuous than, for example, bowling or golfing with an electric cart. Moderately vigorous activities are those that are intense enough to:
Elevate the heart rate
Increase your rate of breathing
Bring sweat to your brow
These are the three most obvious markers of moderate activity, and of course, they'll vary a bit from individual to individual. Some of us, for example, may sweat heavily with even a little exertion, and most of us will sweat heavily in Atlanta or Miami in August, no matter what we're doing, which needs to be taken into account.
If your heart rate isn't elevated somewhat, if your breathing isn't heavy enough to interfere somewhat with normal conversation, if there isn't at least a bit of sheen on your forehead, you probably aren't engaged in moderate physical activity and you aren't getting the health benefits you should (of course, and we can't emphasize this too much, you will nonetheless gain significant benefits from even this light activity).
On the other hand, keep in mind that moderate activities are just that -- moderate. They aren't so intense that you end up on your hands and knees writhing in exhaustion; nor are they activities that leave you so sore you can barely get out of bed the next day. Rather they are activities that are somewhat more strenuous than leisurely strolls; they get the sweat flowing, to be sure, but they are well within your comfort zone if you've worked up to them.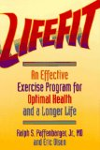 When performing moderate physical activity your child's heart will beat faster than normal and they will breath a little heavier than normal. When children are performing vigorous activity, it will be difficult for them to carry a conversation and their heart rate and breathing will be much faster than normal. Some examples of moderate to vigorous physical activity are: riding a bike, dancing, playing a ball sport, roller skating, jumping rope, and swimming.
Continue Learning about Fitness