What obstacles can get in the way of my fitness plan?
In fitness, there can be many obstacles if you allow it. You might not feel you have the time to exercise, you might be sore from exercising, or you might give up from not seeing results right away. These so-called obstacles will lead you to quit. But those barriers or obstacles aren't truly obstacles; they are fear, uncertainty, and doubt (FUD) creeping into your mind, and they can be controlled by your mind. You have to be willing to overcome your FUD, be prepared to take alternative action when these molehills turn into mountains, and forgive yourself when you happen to slip up. After all, the road to success is paved with both setbacks and accomplishments.

Fear is a natural response that helps keep you safe. Unfortunately, it can keep you from pushing past your comfort zones and into new territories. When it comes to accomplishing your goals, it can construct a difficult roadblock. Whether it is fear of failure, fear of success, or fear of disappointment, if you allow fear to take over, then success can never be achieved. The good news is, fear can be managed. Using mental imagery, you can control your fears by creating and overcoming fearful situations in your mind. When you can visualize yourself overcoming your fright, you are more likely to be able to minimize your fears in real life.

When you experience uncertainty, it is likely because you are entering into the realm of the unknown. You often fear what you don't know. But uncertainty can be overcome with preparation and guidance. Create a strategy. The more prepared you are to accomplish your goals, the less uncertain the outcome becomes. Researching your goals and consulting trained professionals can help control your uncertainty.

To have doubt is to disbelieve or be skeptical. This obstacle is the greatest because you have to believe you can accomplish your goals. If you don't believe you can succeed, you won't. The mind is a powerful ally or enemy; which one it will be is your choice. You can overcome doubt by maintaining a positive outlook (focus on what you can do, not on what you can't), creating specific, measurable, aggressive, realistic, and time-bound (SMART) goals, visualizing your success, and putting together the right strategy. If you think differently, you'll be different!
Being successful at exercise requires making it a part of your daily routine and changing personal habits. Things that can derail your exercise programs are things that make it difficult to make exercise a behavior pattern. Things like not scheduling free time into your day you can dedicate to exercise, not having a good social support structure to keep you motivated, or having good clear goals to shoot for all can derail an exercise program and make it difficult to continue in your goal of fitness.
There are many barriers that can put a stop to an exercise program after getting over the big initial hurdle of getting started. Boredom or a lack of inspiration often derails a well-intentioned and much-needed exercise routine. Finding a friend to join you on a workout or a jog can help keep you interested. If you are joining a health club, make sure it is conveniently located to fit your schedule.

Another barrier has to do with a person's perceived seriousness of their health problem. For example, you need to feel that your coronary artery disease poses a real risk to your future health to feel motivated to run, cycle or join an aerobics class.

To fuel motivation, it is advised to keep a log of your progress, whether it's miles covered if you are jogging or resistance levels on a stationary bike. It can be inspiring to document progress.

It is also important to choose an activity that you enjoy. Your body doesn't distinguish between running, dancing, biking or swimming. What's important is intensity and duration, and sticking to a routine.
Continue Learning about Fitness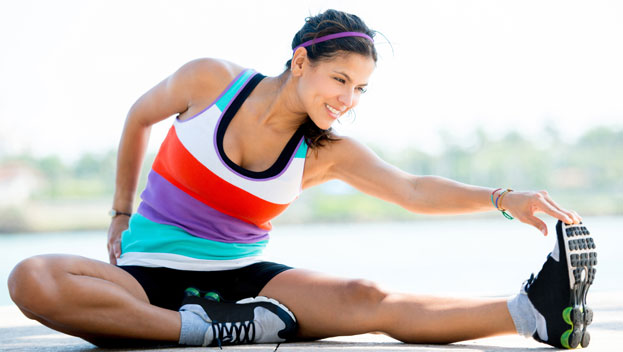 Exercising for 30 minutes at least 5 days a week makes you look and feel better while reducing your risks for many chronic conditions. Physical activity boosts your immune system and mental sharpness, and helps you avoid obesity, ...
diabetes, cancer and heart problems.
More