Success isn't just one giant step it's a series of small steps that all build together to create success. For example people who successfully lose weight and keep it off accomplished this by combining several small gestures together until they finally accomplished a lot. A person trying to lose weight and get fit may add more green leafy vegetables to their diet, then replace one soda a day with water, then walk for 30 minutes once a week. Over time they keep adding a few more little things a piece at a time this person can make dramatic changes to their health. Small gestures when combined together turn into big gestures, and turn into success.
Small gestures (ones not involving individual fingers flung to passing motorists) can be viewed as anything from signs of love to signs of bribery. Token gestures can also help kick-start the psychology of change. Just making a seemingly small change will help determine your long-term success, whether it's buying a health club membership or new walking shoes, throwing away the unhealthy foods from your pantry, or just setting up a computer file to record your progress.

If you make one small move like these, research shows that you'll be three times more likely to follow through with the specific plan you intend to follow. This small change is your way of putting the key in your waist-management ignition.

Once you start with the small gesture, you'll be able to build on it. Eat a full day's worth of perfect-for-you food. Walk 30 minutes today, tomorrow, and every day after that. That's right, 30 minutes of walking a day is the minimum commitment (you can break them up into smaller segments if you can't do it all at once). Then make a second action commitment: Commit to doubling (or tripling) your daily vegetable intake. With one foot, take one specific first step. The next foot has no choice but to follow.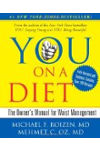 Continue Learning about Fitness