I would advise doing a difficult workout no more than two to three times a week because you need a couple of days for your body to recover from that hard workout. Anytime I do a hard workout I need at least a day to two days recover from that workout and I advise the same thing to my clients. Obviously how old you are will dictate how many times a week you can do a difficult workout.
You want to challenge yourself with every workout, but we also need to give ample time for your body to recover between workouts. Keeping a day between intense workouts will allow you to maximize the benefits. We break down our body's muscles during a workout, and then it is in the recovery phase that your body is repaired. That's how we improve, and the process gives us strength to deal with the next stress or challenge -- or hard workout -- we encounter.
But your workout frequency should also be flexible based on your current lifestyle, diet, sleep habits and stress levels. If you're under stress or not eating and sleeping well, you may need to give your body more time in between hard workouts to recover. If I know my client has had a stressful day or has been traveling, we dial it back and don't do an intense workout because pushing it too hard can subject you to injury.
Much of this will depend on your current fitness level. If you are just beginning exercise then each session may be a challenge. If you are fairly active then you may be able to complete up to 3 hard workouts per week. You must first figure out your fitness level and decide from there. A good suggestion would be to complete 1 to 3 hard workouts per week.
As a general rule, most fitness experts say don't work out hard more than three times a week. Of course, what is "hard" is highly individual and refers to whatever level of effort elevates your heart rate, brings on a slight sweat, and deepens your breathing. If you're prone to injuries, three "hard" workouts a week may be excessive, at least for the first several weeks, until your body becomes accustomed to the effort; there's good evidence that the risk of injury increases as you work out hard more than three times a week. If you're cross-training, however, you'll have more latitude in this regard if you alternate activities that work the upper and lower body.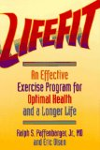 Continue Learning about Fitness