To achieve a longer, healthier, more vigorous life, the least amount of physical activity for the greatest benefits should include two types of activities, which we call Stage One and Stage Two activities, for a total of about 2,000 calories of energy expended per week. If you walk one mile, you'll burn about 100 calories, about the number of calories in half an apple, a slice of bread, or a pat of butter. That figure of 100 calories per mile of walking is for a man or woman of roughly average build, about 155 pounds, or 70 kilograms. If you are lighter or heavier than average, you'll burn off somewhat fewer or more calories in a mile of walking.

Stage One: Get Moving
Every day, you should be on your feet for at least one hour moving around, using the large muscles of the legs while walking, climbing stairs, working in the garden, shuttling about the kitchen, playing with the children, pushing a shopping cart through the supermarket, walking from the train station to your office, purposefully strolling about on your lunch hour, or just about anything but sitting quietly in front of a TV. This need not be continuous activity, nor is it necessary to work up a sweat. What's important is that you are up on your feet moving about every day and, through the course of a day, accumulate at least 60 minutes of activity.

At first glance, this doesn't sound like all that much, and for some, it's not, but in our sedentary society, it can take some planning and determination to achieve even that amount of activity. Certainly if you've had problems in the past sticking with activity, you may need to employ some specific strategies for increasing your Stage One level of activity.

Stage Two: Break a Sweat
Once you've become accustomed to being up and "puttering about" at least an hour a day, you should begin to add moderate activities to your weekly routine that eventually total at least 30 additional minutes, three times a week. Unlike Stage One activities, which you'll be able to achieve by simply getting through the day, Stage Two activities typically are deliberate and planned. These activities are primarily what we think of as recreational activities such as brisk walking, jogging, cycling, swimming, aerobic dance, or court sports. These activities should be sustained for 30 minutes or longer, they should be continuous, and they should be done at an intensity that brings a bit of sweat to your brow, raises your heart rate, and has you breathing more deeply.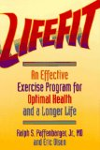 Since 1995 the Physical Activity Guidelines for Americans recommendation has been that adults obtain at least 30 minutes of moderate-intensity physical activity on 5 or more days a week, for a total of at least 150 minutes a week. This was reiterated in the most recent physical activity guidelines set forth in 2008 by the federal government. According to the Advisory Committee report, the CDC/ACSM guideline was too specific. As a result, the new guidelines allow a person to accumulate 150 minutes a week in various ways.
Continue Learning about Fitness