All adults are urged by the U.S. Department of Health and Human Services to accumulate a weekly total of at least two-and-a-half hours (150 minutes) of moderate aerobic activity, or at least one-and-a-quarter hours (75 minutes) of vigorous activity, or an equivalent mix of the two. The experts also recommended twice-weekly strength training sessions for all major muscle groups and balance exercises for older adults at risk of falling.
The more you exercise, the better. Adults should engage in moderate-intensity physical activities for at least 30 minutes on five or more days of the week, according to the Centers for Disease Control and Prevention/American College of Sports Medicine.
Adults should strive to get at least 30-minutes of moderate to intense exercise most days of the week. This number is a guide and one that should be maintained or exceeded. Many Americans get less than the recommendation so help change that stat and stay active!
Doctors recommend that adults participate in moderate intensity exercise for 30 minutes most days per week. Unfortunately, less than half of us in the United States actually do this. One in every five adults does no moderate-intensity leisure activity during a typical week. We've truly become a nation of couch potatoes!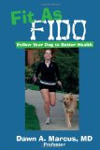 More About this Book
Fit As Fido: Follow Your Dog to Better Health
Let your dog teach you to live a happier, healthier, and more fulfilling life! Companionship with your pet can be used as a means and a motivator to increase your own physical and mental fitness....
Continue Learning about Fitness