Corporate fitness programs help employees maintain active healthy lifestyles. Maintaining an active healthy lifestyle helps increase productivity and diminishes health care costs. Employees involved in a corporate wellness program tend to miss fewer work days and have fewer doctor visits. Exercise has many positive benefits including reduced risk of heart disease, cancer and type 2 diabetes. In addition, exercise improves cognitive function, reduces stress, and improves your mood.
Corporations must take more responsibility for helping their valuable employees get their bodies moving. Health care costs include the days you are out of work, and the cost of your prescriptions and insurance affect the company's bottom line as well. Exercise is good for your business.

Researchers at Indiana's Ball State University discovered businesses owned by runners who ran at least four times a week had average sales two to three times higher than companies whose owners didn't run regularly. Exercise of any kind produces endorphins, which increase creativity, optimism, and well-being.

Wouldn't it be wonderful that in light of our research on exercise and productivity corporations would really begin to take a work-life balance as a priority in their companies? If you work for a company that is not supporting work-life balance efforts there is plenty of science you can take to the table to show that care of the staff directly affects the bottom line of the company. Volunteer to be on the committee to create this health initiative.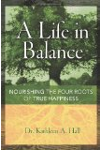 Continue Learning about Fitness