The decision to get in shape may seem like and is a big decision, but it's the commitment and the small steps, like thirty minutes of walking every day, that really matter. Also, deciding to walk to the neighborhood grocery store instead of driving. Pedaling an exercise bike while watching the football game instead of kicking back in the La-Z-Boy. Lifting weights instead of chips during the commercials. Actually walking the dog, instead of just shoving him out into the backyard. Every movement you make improves your physical fitness. Housework, gardening, mowing the lawn - not to mention fun things, like dancing and sex - are all activities that burn extra calories. The point is to get your muscles moving. The more active you are, the younger you are.

Put on your favorite record and dance to a couple of songs -- go on, no one's watching. Instead of hiring a neighborhood kid to rake the leaves, do it yourself. Ride your bike to work instead of driving, and always take a walk at lunchtime. In the middle of the afternoon, take a ten-minute break and, instead of having another coffee, walk around the block.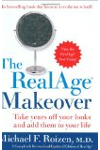 There are lots of ways to be more active in your day to day life. Parking further away from work or shopping, taking stairs instead of elevators, doing more chores around the house, walking to errands instead of driving are all ways to be more active. By adding small amounts throughout the day you can make big differences in activity levels.
Continue Learning about Fitness