With utilizing good nutrition and exercise habits, you can achieve your dream body. Use these tips!
There is no substitute for well planned, focused, consistent hard work. If you want to achieve your dream body, set your goals, and lay out a path of how you plan to achieve them. Put together your plan and understand what it's going to take, and how you are going to change your lifestyle. Prepare yourself for possible setbacks, and set off to achieve your dream body step by step.
No secret formula here, folks. You know you've got a few options when it comes to getting the body you've always wanted. To make real changes, you need to change the food you eat and the way you exercise. (Of course, there are always surgical options too.) While you can't spot-reduce body parts when it comes to frying fat (your body decides where it comes off first), that doesn't mean you can't target the muscles in your hot spots. How? Incorporate some resistance training into your workout. Men can change their chests from a feminine to a masculine appearance by just pumping their pecs for 5 minutes a day (and ripped abs look good on everyone).
Building muscle will help you burn fat because it takes more energy to maintain muscle than it does fat, and it will also help give you that toned (not bulky) appearance. In addition, you can help get that long look by lengthening your muscles through stretching and yoga.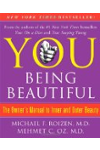 Continue Learning about Fitness